SAP S/4HANA is SAP's next generation business suite designed to help you run simple in a digital and networked world. This new suite is built on our advanced in-memory platform, SAP HANA, and offers a personalized user experience with SAP Fiori.
Deployable in the cloud or on-premise, SAP S/4HANA is built to drive instant value across lines of business and industries with the ultimate in sophistication: simplicity.
SAP S/4HANA is the first digital core for digital business. Make Internet of Things (IoT) and big data accessible. Gain real-time insight on any data – plan, execute, predict, and simulate on the fly, at the highest level of granularity. Focus on essential tasks and gain flexibility to change business processes.
SAP S/4HANA Enterprise Management is the foundational solution, covering the digitized mission-critical business processes of an enterprise. Key end to end business processes of SAP S/4HANA Enterprise Management: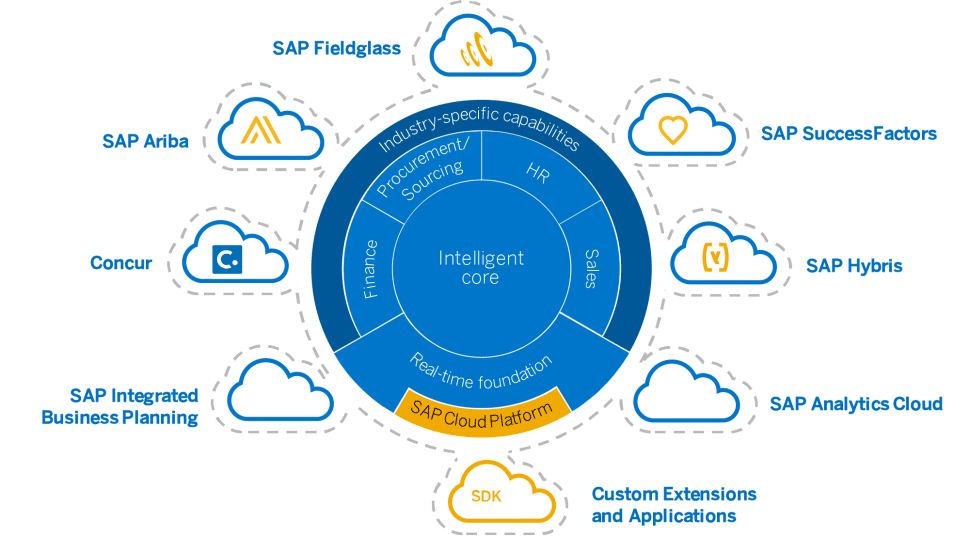 SAP S/4HANA Benefits Discover the Benefits of
SAP S/4HANA
How Can I Become an Intelligent Enterprise with SAP S/4HANA?
Today's environment and society presents new challenges that require new mindsets and new approaches. One example is the increasing focus on human behavior and experience – that's why we talk also about an experience-driven economy. Ongoing changes in technology, business and society are bringing up both, new opportunities and new challenges.
In order to cope with these challenges and leverage opportunities, your enterprise has to become intelligent: you could use "new" technologies like artificial intelligence, machine learning or Internet of Things (IoT) – there is a wealth of technologies available. However, it makes no sense to implement technologies just for their own sake – you need to find the ones necessary to create immediate and sustainable value for your company.
At the core of the operations, an existing standard software (e.g. SAP ERP) is already in place. In many cases, SAP S/4HANA is the digital core for becoming an Intelligent Enterprise.  It is your starting point enabling you to make your business smarter and intelligent step-by-step.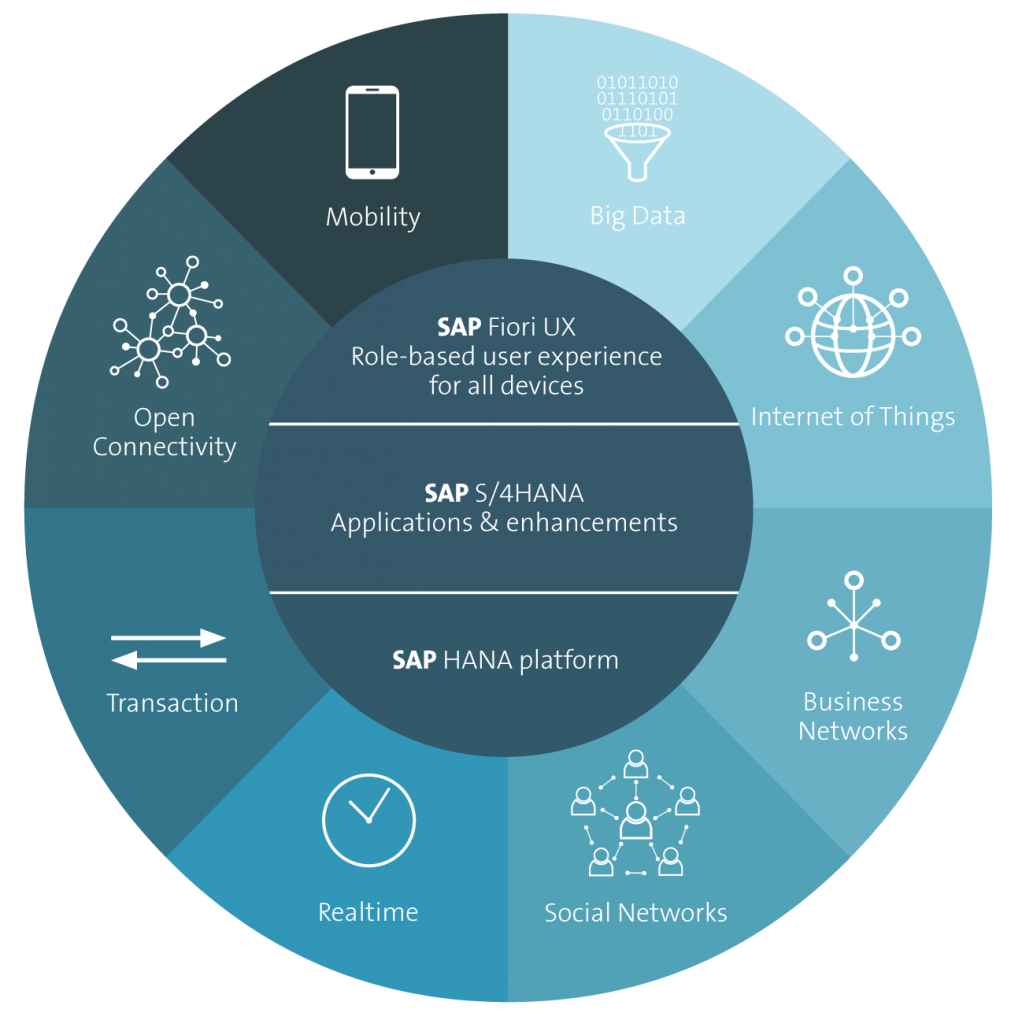 It is able to process huge amounts of data and generate real time data insights. Moreover, it's not only about processing data but about using and analyzing this data to increase transparency, be up to date and get reasoned arguments for your decisions. These are just a few benefits of SAP S/4HANA.
How Can I Optimize My Supply Chain with
SAP S/4HANA?
SAP S/4HANA can improve your supply chain management in several ways. Take a look at this infographic and learn how the benefits of SAP S/4HANA can increase the performance of every single line of business: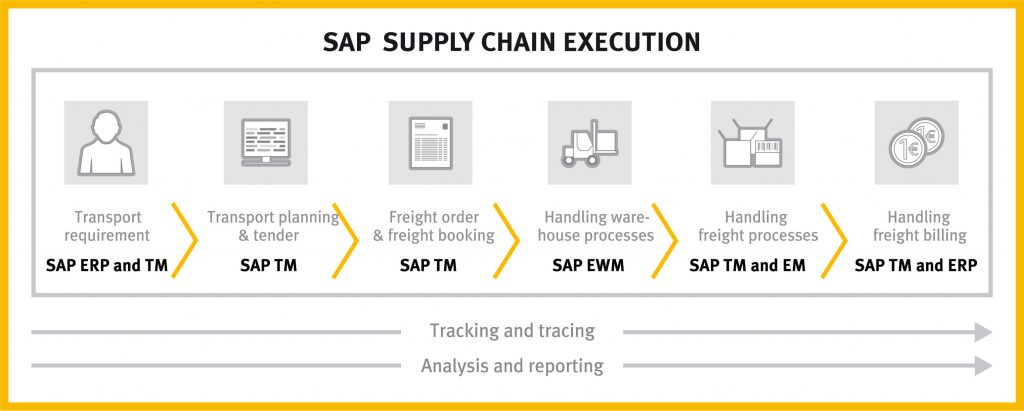 Click to Get More Details
| Challenges | Benefits of SAP S/4HANA |
| --- | --- |
| ☑ Forecasting based on Excel sheets and historical experience does not allow for accurate estimation of supply needs and strategic sourcing. | ☑ SAP S/4HANA is tightly integrated with inventory management and planning modules, which can be used to drive strategic purchasing automatically for purchases, issuing POs based on stock levels and forecast models. |
| ☑ Lack of transparency complicates the development of an understanding of inventory and supply chain. | ☑ Cloud-based SAP Ariba (Software as a Service – Saas) enables a much greater degree of supply chain visibility and improves ease of use. |
| ☑ Procurement is often reduced to a tactical exercise of obtaining the lowest cost, not considering trade-offs like lower quality or lower supplier reliability. | ☑ Improve your strategic vision and reduce supply chain risk by forming an optimal mix of suppliers and partners. Collaborate with your suppliers in a demilitarized zone of SAP Ariba, only showing relevant content, while being connected to your whole system in the background. |
| | ☑ With an understanding of supply base and a close collaboration with your suppliers, procurement can be a competitive differentiator, an innovation enabler and source of strength. |
| Challenges | Benefits of SAP S/4HANA |
| --- | --- |
| ☑ Production planning does not consider capacities (equipment and staff). | ☑ SAP S/4HANA enables an integrated view of availability and capacity. |
| ☑ Inaccurate manufacturing planning leads to long manufacturing cycles and increased manufacturing costs. | ☑ MRP Live analyzes requirements and receipts in real time and detects material shortage as they arise. |
| ☑ Material shortages do not allow flexible handling of short-term changes in customer demand. Classic sales and operations planning causes the bullwhip effect, as planning forecasts are not accurate. | ☑ With PP/DS, operational production planning can be significantly improved, as live data allows for better business decisions and more precise planning. In this way, delays or setup times can be minimized or prioritized orders can be scheduled preferentially. |
| ☑ Higher inventory levels result in capital commitment or material shortages caused by delivery delays. | ☑ Clear visibility across the material flow increases user acceptance and efficiency. |
| | ☑ The system allows you to simulate different supply scenarios. |
| | ☑ With PP/DS, capacity and MRPs can be viewed in an integrated manner. |
| | ☑ Demand Driven MRP (DDMRP) considers customer demand for the requirements planning. |
| Challenges | Benefits of SAP S/4HANA |
| --- | --- |
| ☑ Lack of a single source of truth in finance results in lower confidence in figures. | ☑ The once-separate components of Financial Accounting (FI) and Controlling (CO) are combined in the Universal Journal. |
| ☑ Inefficient closing procedures creates difficulties when managing progress in monthly, quarterly, or yearly close. | ☑ Continuous Closing or "soft close" is possible via embedded analytics, Embedded BW, and group |
| ☑ No seamless consolidation processes result in difficult group reporting in a disjointed financial landscape that has too many manual tasks. | ☑ SAP S/4HANA Finance for group reporting addresses consolidation shortcomings by helping you deliver your entity and group close processes on a single system. |
| ☑ No audit trail linking consolidated financial statements to the underlying operational transactions. | ☑ No audit trail linking consolidated financial statements to the underlying operational transactions. |
| | ☑ SAP S/4HANA removes the separation between operational and analytical systems and allows business users to access operational data in real time without detours or delays for analysis. It increases user efficiency |
| | ☑ Based on machine learning and forecasting algorithms, SAP Predictive Analytics software can predict the probability of future events. Decision makers are supported by predictive analysis, for example within human resource management, maintenance, sales, or supply chain |
Partner Packaged
Solutions
ACT TODAY FOR BETTER TOMORROW
FILL THIS FORM TO GET A FREE CONSULTATION: